Personal data legislation is not new in Denmark
...and compared to existing legislation, the new EU GDPR is more of an evolution than a revolution.
The current interest in this issue is primarily due to the framework for fines which will increase considerably and can represent up to 4% of revenue.
Advice on the GDPR and the Personal Data Act
If you need advice on the GDPR and the Personal Data Act, we have a team of legal experts in Azets, which can help you become wiser and give you the necessary advice and tools to best prepare you - all in understandable terms.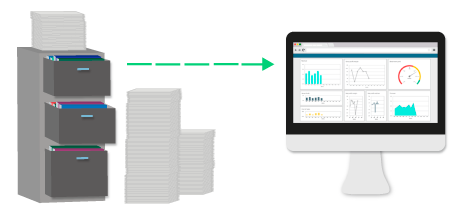 Epos HR is an HR system that supports all processes in your HR work and is a good tool for supporting the GDPR. Epos HR is recommended by Dansk HR
File cabinet or HR system?
Do you still have large filing cabinets filled with contracts, old CVs, miscellaneous attachments and information about your employees?
In order to comply with the GDPR, it's time to clear up the piles and systematize your data.
The law states, among other things, that:
You must be able to document all processes related to personally sensitive information - who has done what with which data and when?
You must be able to document that only relevant employees have access to specific personal data – the payroll processor, the HR manager and the team leader should not have access to the same information about employees.
The framework for fines will increase considerably and could represent up to 4% of revenue. Get ready for the GDPR now.
Recruitment - remember to forget!
According to the GDPR, everyone has the right to be forgotten. This means, for example, that all the personal data you collect during a recruitment process must be deleted when you no longer have a reason to store the information - typically when the desired candidate is found.
When recruiting, the Data Protection Agency recommends that personal data is deleted within a maximum of 6 months.
With a modern recruitment system, this process can be done automatically, so you remember to delete old data. An automatic notification makes sure you remember when collected data reaches the limit of 6 months.
The EasyCruit recruitment system is a user-friendly online solution that integrates job postings on your website. EasyCruit makes it easy for you to complete a recruitment process within the framework of the GDPR.
Want more information?
You are always welcome to give us a call. If you want us to contact you, fill in the form and we will contact you as soon as possible.
+45 44 51 81 80